17
/
May
2015
This week I'm branching out a little, from reviewing books to… reviewing a play (from a book). Yesterday I decided to make the most of living in London and saw Death of a Salesman at the beautiful Noel Coward Theatre . I've never seen the fabulous Arthur Miller play performed before, I've only read it, so it was a real treat to see it as it was meant to be seen. While I do want to go and live the 'American Dream' one day, I do love reading about the disturbing dark side of it from writers such as Miller and Steinbeck. This is the main reason I know more American history than I do British!
There are lots of vaguely recognisable faces in this RSC production, and just a glance at the impressive back catalogue of parts each actor has played shows you why. Luckily there was no one too famous in this stellar cast as to detract from the character they were playing*.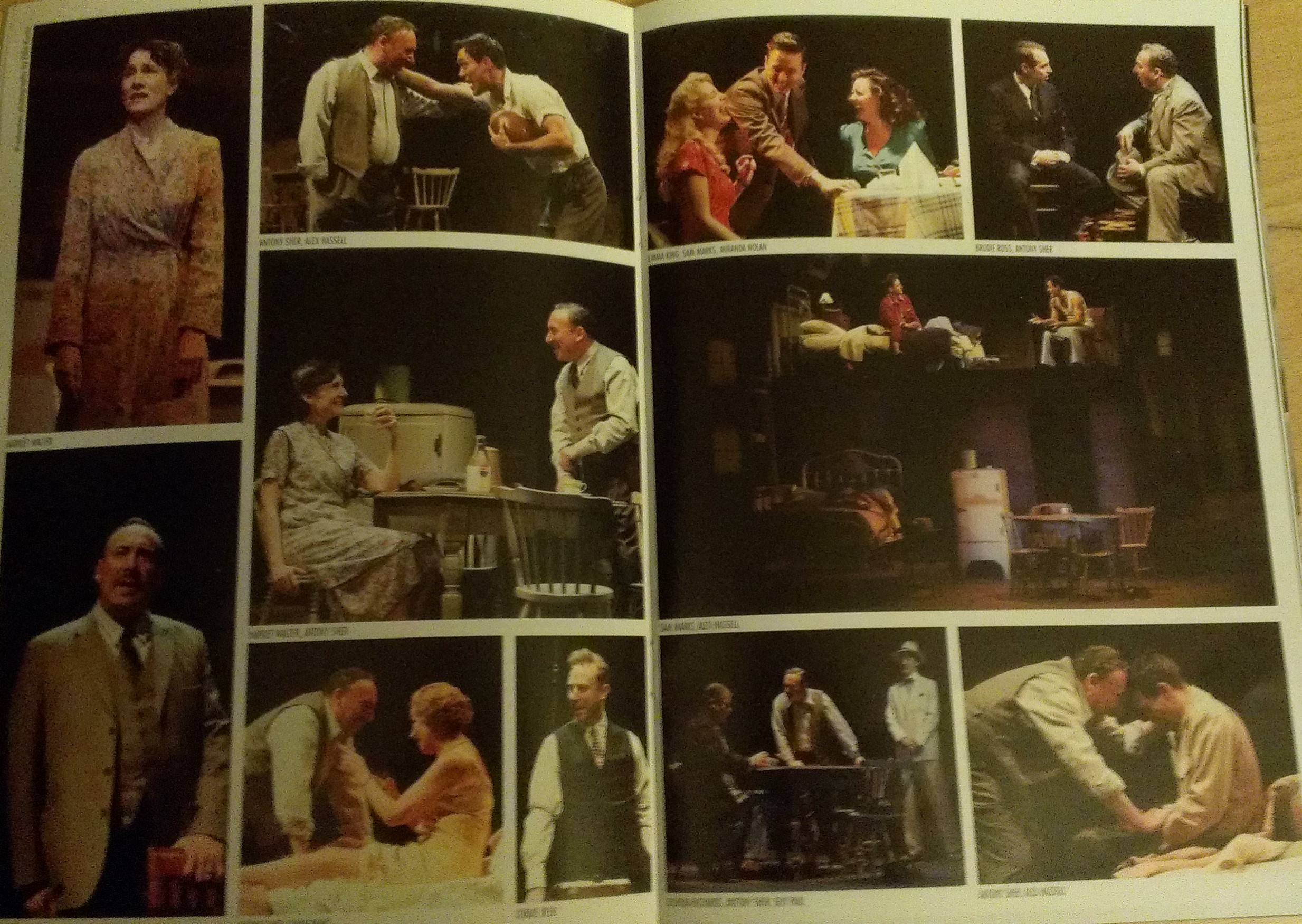 Minor roles were expertly played, particularly the play's comic relief Charley played by Joshua Richards. Alex Hassell and Sam Marks, despite their occasionally questionable Noo Yoik accents, did well to portray Biff and Happy's complex relationship with their father. And of course it goes without saying that Antony Sher was magnificent as the downtrodden Willy Loman, transitioning between the dark present and his nostalgia-drenched past via disturbing confusion with great ease. Death of a Salesman is not an easy play to produce I imagine, with the frequent flashbacks. However those scenes were done brilliantly, with just a subtle change of lighting and some extra props to show we were now in Willy's memories.
However it was Harriet Walter's fantastically understated performance as Linda that completely stole the show, not an easy feat with such few scenes. Not to disparage Sir Sher's performance by any means but it's relatively easy to do well with such a prominent character as Willy Loman. However Walter appears in such few scenes with such few lines, and with this small amount of stage time she managed to break the audience's hearts, showing the old stage adage is true - there are no small parts… While the rest of the cast shouted and screamed and flung chairs, she played her part so quietly but with such feeling. To paraphrase (and take wildly out of context) Miller's words, attention must be paid to such a wonderful, simple performance.
You certainly can't help paying attention to the rest of the cast too; there is so much raw emotion and raised voices at all times you leave the show feeling slightly shaken and exhausted! An absolutely fantastic show all round though, and I am now feeling so disillusioned with the 9-5 working life the next thing I'm going to do is write a resignation letter and go work as a farm hand somewhere.
Death of a Salesman is playing its limited London Season from now till the 18th July at the Noel Coward Theatre, St Martin's Lane. Go see it, but be warned - you will feel compelled to quit your job and work outside with your shirt off.
* The performance of Blood Brothers I saw a few years ago springs to mind; Melanie Chrisholm played Mrs Johnstone, and all I could think was "Holy crap, that's one of the Spice Girls!" rather than weeping over her life 'on the never never'.