15
/
Feb
2015
In celebration of the most over-hyped holidays since new years eve, Valentine's day, I have put together some of my favourite romantic reads. My own valentine's day was spent searching through record shops with my husband, followed by an evening of chilli and Fargo (fab series) - not very romantic but perfect for us! So what are your favourite romantic stories ? Whose literary relationship best demonstrates love to you? Who is your fictional crush?! Let me know in the comments!
One day by David Nicholls
"You're gorgeous, you old hag, and if I could give you just one gift ever for the rest of your life it would be this. Confidence. It would be the gift of confidence. Either that or a scented candle"
I do love a good tear-jerker and this is one of the best there is. I loved visiting these two "meant-to-be" characters on the same day a year for 20 years and seeing where life has taken them. It perfectly describes the "I haven't got a clue what I'm doing with my life" feeling that sums up your 20s at any rate! Great writing, and hugely believable, likeable characters. Very romantic and a lovely ending if you can read it through the tears.
Jane Eyre by Charlotte Bronte
"Do you think, because I am poor, obscure, plain and little, I am soulless and heartless? You think wrong! - I have as much soul as you, - and full as much heart! And if God had gifted me with some beauty and much wealth, I should have made it as hard for you to leave me, as it is now for me to leave you!"
I love this classic and would pick it every time over its overtly more "romantic" sister tale Wuthering Heights by Emily Bronte for a list like this. Yes, the love that is shown between Jane and Mr Rochester is less passionate then Kathy and Heathcliffe's. Yet it is far more real, more enduring, more forgiving than theirs also. The best bit? Jane is her own woman and, light-years ahead of time, is able to decide that living alone is preferable to living without respect. Forget your Bella Swans and your Anastasia Steeles - Jane Eyre is the woman whose relationship we should be wanting to emulate!
Pride & Prejudice by Jane Austen
"But no sooner had he made it clear to himself and his friends that she hardly had a good feature in her face, than he began to find it was rendered uncommonly intelligent by the beautiful expression of her dark eyes."
Despite not being my favourite Jane Austen book, this has got to be the best when it comes to romantic novels! Just for that quote alone: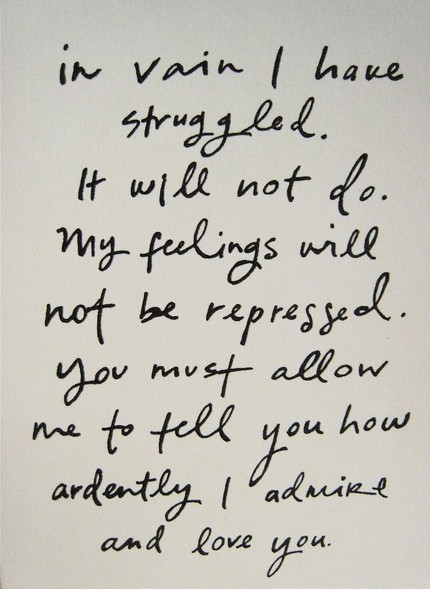 I like that this book shows that being in love means you don't necessarily need to hit it off right away, you can have sparks fly between you, and argue yet admire one another. Lizzie and Mr Darcy complement each other well, make up for each other's shortcomings and bring out the best in each other, just as the best couples should!
The Time Traveller's wife by Audrey Niffenegger
"It's dark now and I am very tired. I love you, always. Time is nothing."
Another one on the list that made me cry like a little girl. Niffenegger does a great job of normalising time travel and making it just seem like one of those obstacles a relationship needs to endure. If you fancy a light read with a blubbery finish then this is for you.
Captain Corelli's Mandolin by Louis de Bernières
"Love is a temporary madness, it erupts like volcanoes and then subsides. And when it subsides, you have to make a decision. You have to work out whether your roots have so entwined together that it is inconceivable that you should ever part."
The imagery of this book is absolutely gorgeous. Bit of a cliché but I really felt like I was there on Cephallonia when I was reading it. Featuring one of my favourite quotes on love (see above and click here for the full version) you can almost forgive the let-down of an ending when the rest of the book is a work of escapist beauty.
Special shout out to Who's Afraid of Virginia Woolf by Edward Albee
"I swear to God George, if you even existed I'd divorce you."
For if you fancy reading about how f-ed up relationships can get! I've read this a few times, and each time it's like not being able to look away from a car crash. Featuring some genius dialogue and some of the best characters ever it definitely deserves an honourable mention, even if it's a guide for how to not do marriage!